Closure: Sun. 1/15/23 – Mon. 1/16/23 (Holiday)
Spring Hours (MLK Jr. Building & Eshleman Hall)
Monday – Saturday: 8 am – 12 am
Sunday: 10 am – 9 pm
Spring Hours (Eshleman Lobby )
Monday 8am-12am
Tuesday 8am-12am – Open 24 hours
————————-
Wednesday 8am until Sunday 8am
Sunday 10am-9pm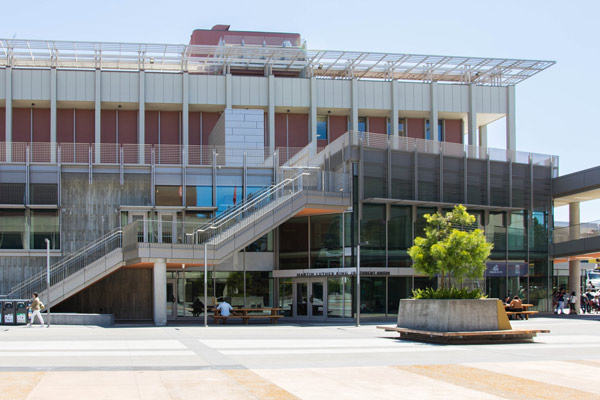 MARTIN LUTHER KING JR. BUILDING
LOCATION
2495 Bancroft Way, Berkeley, CA 94720
At the University of California, Berkeley
Email us: asucstudentunion@berkeley.edu
Phone: (510) 664-7976
BUILDING OPEN HOURS
The Following Are Open During Business Hours:
– Cal Student Store
– Amazon Hub+
– Berkeley Art Studio
INFORMATION DESK
LOCATION
2495 Bancroft Way, Berkeley, CA 94720
At the University of California, Berkeley
We're here to help! Need to book a room or simply have a question about the Student Union or campus? Then visit or contact our information desk. We are located on the main floor of each building.